More Related Stories
YouSendIt Partners With Comcast to Bring File Collaboration on New Upware Marketplace From Comcast Business
Send, Share, Sync and Sign Now Available to Over One Million Comcast Small Business Customers
February 20, 2013 --
!-- AddToAny BEGIN -->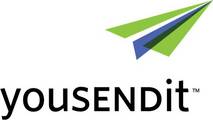 CAMPBELL, CA -- (Marketwire) -- 02/20/13 -- YouSendIt, Inc., a leading cloud file collaboration service, today announced it was chosen to be one of a select group of leading SaaS providers on Upware™ from Comcast Business. Through this new partnership, Comcast Business Class users will now have access to YouSendIt's entire Web Application suite of collaboration services through a Single Sign-On portal.
The Upware™ marketplace is a suite of cloud-based business solutions that can be purchased through one easy-to-use web portal. It contains a carefully selected list of third-party, cloud-based business applications from industry-leading companies in key categories such as data backup, data security, document collaboration and web collaboration. Upware is designed to meet the needs of small and medium businesses looking to use cloud-based solutions to simplify their IT systems, control costs and increase productivity.
The YouSendIt collaboration solution offers an individual user account for the price-conscious small business professional and offers a robust, 1,000 GB storage capacity for team accounts. According to a research study by Microsoft and Edge Strategies, 71 percent of small businesses require technology that enables their staff to work anywhere at any time, and 59 percent report significant productivity benefits from cloud services; this new partnership provides a vital platform for SMBs looking to scale their businesses in a secure, accessible ecosystem.
"We are very excited to have been selected by Comcast as one of their inaugural partners in this innovative new Marketplace. The Upware marketplace from Comcast Business directly engages the prosumers that make up the cornerstone of our user base," said Eric van Miltenburg, YouSendIt's Senior Vice President of Business Development. "Since 43 percent of files shared on the YouSendIt platform are from SMB organizations, our participation on the Upware marketplace from Comcast Business further extends our reach to professionals that derive tremendous value from the YouSendIt solution."
"My business relies on the ability to securely and seamlessly share large amounts of vital information with colleagues working in various locations across the country," said Mike Charlton, Capital Habeas Lawyer. "YouSendIt provides a simple, dependable solution for collaborating on complex legal cases where someone's life is at stake."
The key features for using YouSendIt on the Upware marketplace from Comcast Business include:
Single Sign-On: Access your content on YouSendIt from one secure portal using your Comcast Business Class credentials.
Individual User Accounts: Starting at just $14.99/month, YouSendIt is the only solution to offer a single-user account allowing up to 2GB of file size sharing, 50MB of storage, file encryption, anti-virus file scanning and file tracking & expiration.
Unlimited Signing Capabilities: Sign your important documents whenever, wherever with a swift movement of your mouse or a drag across your trackpad.
"The Upware marketplace from Comcast Business has taken a different approach by selecting only a small number of trusted, industry-leading providers to participate in this offering," said Kevin O'Toole, senior vice president/general manager, new business solutions at Comcast Business Services. "YouSendIt is an industry leader in cloud file collaboration, and will be a key offering to SMBs who use Upware from Comcast Business to help improve their organization through best-in-class cloud-based services."
About YouSendIt
Founded in 2004, YouSendIt was working in the cloud before the term was even coined. At first the service was a simple way to send the large attachments that email couldn't process, but has since grown to become a robust suite of online file storage and management capabilities. Today, the company serves 40 million registered users across 193 countries and 98 percent of the Fortune 500. Aside from offering professionals an easy-to-use collaboration solution, YouSendIt's renowned reliability, untouched data security and endless innovation make it the go-to solution for businesses, big and small.
About Comcast Business Services
Comcast Business Services, a unit of Comcast Cable, provides advanced communication solutions to help organizations of all sizes meet their business objectives. Through a modern, advanced network that is backed by 24/7 technical support, Comcast delivers Business Class Internet, TV and Voice services for cost-effective, simplified communications management.
Launched in 2011, the Comcast Business Class Ethernet suite offers high-performance point-to-point and multi-point Metro Ethernet services with the capacity to deliver cloud computing, software-as-a-service, business continuity/disaster recovery and other bandwidth-intensive applications. Comcast Metro Ethernet services are significantly faster than standard T1 lines and other legacy technologies, providing scalable bandwidth from 1 Mbps up to 10 Gigabits-per-second (Gbps) in more than 20 major US markets.
For more information, call 866-429-3085 or visit http://business.comcast.com/enterprise.
About Comcast Cable
Comcast Cable is the nation's largest video, high-speed Internet and phone provider to residential customers under the XFINITY brand and also provides these services to businesses. Comcast has invested in technology to build an advanced network that delivers among the fastest broadband speeds, and brings customers personalized video, communications and home management offerings. Comcast Corporation (NASDAQ: CMCSA) (NASDAQ: CMCSK) is a global media and technology company. Visit www.comcastcorporation.com for more information.
Media Contact:
Katie Ball
YouSendIt, Inc.
408-429-7108
Email Contact


Copyright @ Marketwire
Related Keywords:
business content collaboration services, YouSendIt, small business, Comcast, Applications,Storage,Security,Internet,Business Issues,Cloud Computing,Services,Misc,Security,Security,Internet Server Applications,E-mail,application services,Management,Marketwire,IT (Information Technology),Security,Business Services,Television,Internet Technology,Business,Internet,Email,Other,
---
Source:Marketwire. All Rights Reserved