More Related Stories
Molly Ola Pinney, Founder and CEO of the International Nonprofit, Global Autism Project, Delivered a New Perspective on Helping Others Live at a TEDx Event
April 14, 2018 --
Founder and CEO of Global Autism Project, Molly Ola Pinney, was a featured speaker at the TEDx Live event at the Zeiterion Theatre in New Bedford, MA, challenging the way people think about helping others.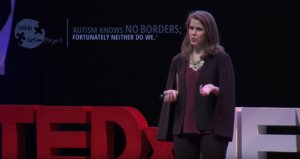 World Autism Awareness Month officially kicked off on April 2nd with World Autism Awareness Day. Recognized internationally, World Autism Awareness Day encourages Member States of the United Nations to take measures to raise awareness about people with autism throughout the world.
There are currently over 70 million people in the world challenged by various degrees of autism, with 85% of this population living in developing countries. In many parts of the world, families of children with autism have no resources, nowhere to turn, and live in communities that have little to no understanding or acceptance of people with autism.
Global Autism Project is working hard to change this by partnering with communities around the world and providing training on how to work with kids with autism in a SUSTAINABLE way.
Founder and CEO of Global Autism Project, Molly Ola Pinney, was a featured speaker at the recent TEDx Live event in New Bedford, MA which focused on the theme of "Begin." The event included discussions surrounding the importance of community, innovation, culture, and education.
Pinney took the infamous red stage at the Zeiterion Theatre to present a new perspective on global aid. Speaking from her 14 years of experience in the international development and nonprofit sector,  Pinney challenged the way people think about helping by putting forth the idea that doing things for others may not be the best way to help.
The Global Autism Project, instead, promotes the acceptance and integration of individuals with autism by training communities in culturally relevant, sustainable practices. Pinney encouraged the audience to consider their actions when feeling compelled to help, whether that includes supporting education, solving major social issues, or creating programs to feed the homeless.
Pinney related the story of her travels to Ghana where she was introduced to the inefficient world of good-hearted people who simply want to help, but feel compelled to "do for" rather than "do with." She talked about NGOs, or non-governmental organizations, which bring in loads of second-hand shoes to towns with a capable cobbler, school buildings that sit empty for lack of teachers and furniture, or SUVs that are out of place in countries without roads.
When she learned from the mother of a child with autism that many people in her country believe the child is possessed by a demon, Pinney's first instinct was to try to "help." But then she thought about the misguided attempts she had witnessed and knew there must be a better way.
"We're taught as kids doing for others is good, but I've learned a lot about the best way to help," said Pinney. "There is a distinction between doing with people and doing for people. When we do for people, what we really mean is, 'I'm going to help you in the way that I think is best.' We make assumptions about what they're capable of, and what they're not capable of."
As an alternative, Pinney advocated beginning by simply "doing with" people. She recommended asking questions such as "What do you feel you need? What do you think is best? What can I help you with?" She plaintively asked, "Can't we ask instead, 'What do you need to make more shoes? How can your community support a school? What will make it easier to carry out your everyday tasks?'"
Pinney began the Global Autism Project with a firm belief that everyone in the world should have access to reach their potential. She quickly realized that families everywhere have the same worries, concerns, and questions about a child with autism. Most want their child to be happy, and to be able to live an independent life. So, the Project decided that it would focus on working with these parents to collaborate rather than dictate. In closing, she said, "The next time you feel compelled to help, I encourage you to begin instead by first saying, 'What will happen if I do this with you?'"
About Molly
Molly Ola Pinney is the founder and Chief Executive Officer of the Global Autism Project, an international nonprofit committed to promoting the acceptance and integration of the global autistic community. She started the organization after moving to Ghana in 2003 to serve as a therapist for young man with autism. Struck by the need for teacher training, community outreach and understanding of autism, she created a model for sustainable change. The Global Autism Project has worked in ten different countries, currently holds consultative status with the United Nations, and is actively working towards a goal of establishing centers of excellence in 20 countries by year 2020.

Molly, originally from New Hampshire, has traveled and worked internationally for over 14 years. She earned a BA in Sociology with a concentration in Neuroscience from Columbia University, and has been the recipient of numerous awards and accolades for her work. She was honored with the Comcast NBC Universal award, the Autism Light Foundation award, and had the opportunity to ring the NASDAQ bell alongside her staff in 2012. Molly has been an invited speaker at the United Nations World Autism Awareness Day event, as well as multiple events in the fields of nonprofit leadership, applied behavior analysis, and entrepreneurship.

About TEDx, x = independently organized event
In the spirit of ideas worth spreading, TEDx is a program of local, self-organized events that bring people together to share a TED-like experience. At a TEDx event, TEDTalks video and live speakers combine to spark deep discussion and connection in a small group. These local, self-organized events are branded TEDx, where x = independently organized TED event. The TED Conference provides general guidance for the TEDx program, but individual TEDx events are self-organized. (Subject to certain rules and regulations.)

About TED
TED is a nonprofit organization devoted to Ideas Worth Spreading. Started as a four-day conference in California almost 30 years ago, TED has grown to support those world-changing ideas with multiple initiatives. The two annual TED Conferences invite the world's leading thinkers and doers to speak for 18 minutes on a diverse mix of topics. Many of these talks are then made available, free, at TED.com. TED speakers have included Bill Gates, Jane Goodall, Elizabeth Gilbert, Sir Richard Branson, Nandan Nilekani, Philippe Starck, Ngozi Okonjo-Iweala, Isabel Allende and former UK Prime Minister Gordon Brown. The TED2014 Conference will take place in Vancouver, British Columbia, along with the TEDActive simulcast in neighboring Whistler. TEDGlobal 2014 will be held in Rio de Janeiro, Brazil.

TED's media initiatives include TED.com, where new TED Talks are posted daily; the Open Translation Project, which provides subtitles and interactive transcripts as well as translations from volunteers worldwide; the educational initiative TED-Ed; and TEDBooks, short e-books on powerful ideas. TED has established the annual TED Prize, where exceptional individuals with a wish to change the world get help translating their wishes into action; TEDx, which supports individuals or groups in hosting local, self-organized TED-style events around the world; and the TED Fellows program, helping world-changing innovators from around the globe to amplify the impact of their remarkable projects and activities.

Follow TED:
on Twitter at http://twitter.com/TEDNews, or
on Facebook at http://www.facebook.com/TED
Media Contact
Company Name:
Global Autism Project
Contact Person:
Cassie Harden
Email:
Send Email
Phone:
718.764.8225
Country:
United States
Website:
https://www.globalautismproject.org/
Related Keywords:
Non Profit,
---
Source:Copyright (c) AB Digital, Inc. All Rights Reserved